Financial Advisor Branding
Financial advisor branding is crucial to attracting clients and fully monetizing your firm. If yours is a wealth management firm, "wealth" likely should be in the name of your company. If yours is primarily an asset manager, lender, or insurance provider, then "financial" or some other finance term may be better to use in your branding. While shorter names are easier to remember and generally considered better for branding, clarity is often more important than brevity.
A one-word name, like Futuris, could represent a number of future-looking companies. Because of a lack of specificity, branding could become very expensive in order to clarify the company's offerings. On the other hand, "Futuris Financial" conveys the company's line of business very well. Thus, the longer domain, FuturisFinancial.com, may be far better for branding and potential success than the single-word domain.
Whether you use a founder's name or initials, an acronym, or other meaningful terms, adding "wealth" or "financial" tells prospects and clients what your firm is all about.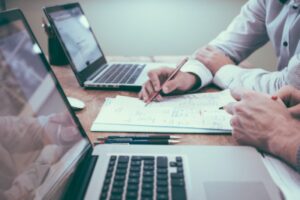 How AIG Improved Their Financial Advisor Branding
In 2022, BrandLily's sister company, Startup Domains, represented the seller of the domain CoreBridgeFinancial.com. A domain broker from one of the largest digital brand advisors called to negotiate the domain's purchase for their client. After some discussion, a deal was struck at the original offering price. Only later, did the seller's broker learn that the buyer was a company division of AIG, a huge company.
Given that the market value of the division, now publicly-traded, is over $14 billion dollars, almost any price paid for the exact .com domain name might have been worthwhile for the company. However, the sale was a win-win as the selling client was happy and now can view the ongoing use of a domain name he purchased and sold to a growing, public company.
Setting Prices for Financial Advisor Branding Domains
While domain name pricing is inexact at best, our purpose in setting prices upfront is to avoid the back and forth between brokers. That avoids emotional responses and helps buyers make better, more rational decisions. They know the domain's set price, and because there are no extra platform fees or selling broker fees through us, having all the cost information means decision-making is simpler.
Is it a .com domain? Does the domain fit our brand and purpose? Can we afford the price? Does it make sense to buy the best .com domain now or risk that we may lose the domain to another buyer or pay far more later on? These questions and more go into brand or re-branding decisions. By setting buy-now prices and avoiding price variability, we help buyers to more easily plan for brand success.
With the help of Startup Domains' curated list of buy-now financial advisor domains, CoreBridge Financial found the exact .com domain name to help them in their re-branding effort. Win-win.
Ten ideas to improve financial advisor branding (or re-branding)
Determine the type of clients you want to attract
Analyze what makes your company different or better
Codify your unique value proposition (UVP)
Choose company name options that reflect your strengths, aspirations, and opportunities
Acquire the best .com domain name available for your company
Federally register your brand's trademark
Create your slogan and brand message
Design your unique brand visuals including logo and website
Keep using, building, and reinforcing your branding strategy
Continually analyze your brand and change it as needed
Click here to search for great financial advisor domain names.
For more on branding, see our Branding Blog.
DISCLAIMER: Nothing on this site should be considered investment or legal advice. Decisions based on information on this website are the sole responsibility of the person viewing the site. You agree to hold BrandLily, Startup Domains, its owner and officers, and the post's author harmless against any and all claims, losses, liability, and expenses arising from its use. Opinions expressed in this post are those of the author only.